Bio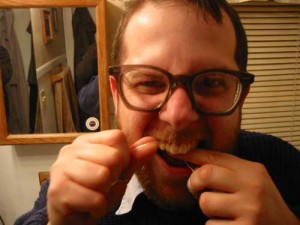 THE KYLE SOWASHES
It would be easy for me to start by saying every fertile music scene in America has a Kyle Sowash to call its own. He's the integral, overambitious, indie-rock everyman responsible for bringing to town bands that, barring his begging, would otherwise pass on by. He's the fervent local enthusiast always in the front row, even on a wintry Tuesday. His floor's been infinitely crashed upon, his bank account tapped from self-financed/self-made tours of the country — basically he's racked up enough D.I.Y. karma points that you're obligated to buy Yeah Buddy on his good works alone. Sowash's selfless moral character may be common in places like Cleveland, Portland, Athens, and Chapel Hill, but his style, his demeanor and his songs are distinctly Columbus, Ohio.
Normally, naming a band after oneself is shallow stroke of ego (i.e., Steve Miller, Bob Seger), but for Sowash, it couldn't be any other way. After slaving over a decade's worth of unrecognized lo-fi indie anthems, he's finally deserved a complete, full-throttle band to live out his rock n' roll fantasies, to flesh out his earnest ballads and scrappy pop songs. A number of bearded local musicians were invited to join him in the effort, and a few shuffled in and out before the final lineup was set. Soon enough, the hirsute foursome of drummer Dan Bandman, guitarist Justin Hemminger, bassist Brian Freshour and keyboardist Sean Gardner joined together around Sowash's material until the band sounded as if they'd been playing together for years.
Even though The Kyle Sowashes are a supergroup of sorts, composed of five dynamic players assembled from such formidable Ohio bands as 84 Nash, Tiara, Denovo and Treysuno, each is channeling a little Kyle Sowash on Yeah Buddy!. This album is quite literally where the strings come in (and the piano, too). Never in my wildest dreams did I ever imagine I'd hear a symphonic Sowash, but "Your Band Flaked Out on Me", which chronicles his frustrations with bands that have let him down over the years, actually brought a tear to my eye. Given that Yeah Buddy! was the first Sowashes record made in a "real recording studio", songs like the propulsive "Free Ride" and "My Resume" are fortified with extra heft and sonic vision, but they manage to retain the goofy charm and sharp hooks that have defined Sowash's career.
Sowash readily admits to his debt to indie rock's golden age – Yeah Buddy! is a study in the work of bands such as Superchunk, Archers of Loaf, Silkworm and Guided by Voices – but he draws on those influences judiciously. In other words, this is no tribute album. While "My Resume", "Only Time Will Tell" and "Rumours" will certainly signal a nostalgic flag, the themes are, as I said earlier, distinctly Columbus, distinctly Kyle Sowash. Obsessions with Andre the Giant, Fleetwood Mac, and making mixtapes while crying over spilt beer – I think it's time to get your beard ready again.
Kevin J. Elliott
January, 2008